Optima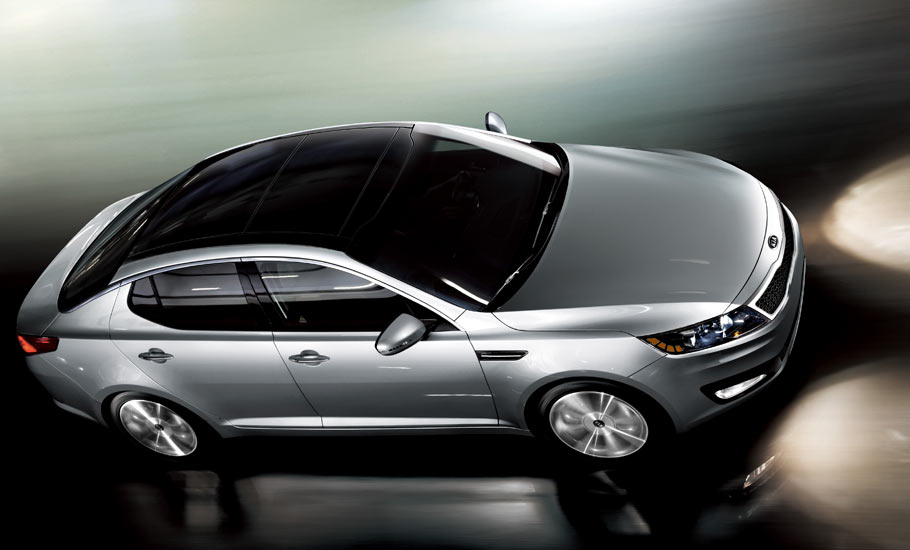 KIA OPTIMA RANGE
Introducing the new Kia Optima
With seven different engine options to choose from, the new Kia Optima range has something for everyone.
This reliable yet fun and high-performance car is already making waves, thanks to its enviable combination of good looks, responsive handling and MPG, but don't take our word for it - book a test drive today.


Optima performance and handling
Optima by name and optimum by nature, the new Kia range of diesel saloons boasts some impressive performance statistics. Pick the Kia Optima diesel 1.7-litre CRDi 2 Luxe four-door automatic saloon and enjoy the ride from 0-60mph in just 11.5 seconds - not bad at all for a car in the family saloon bracket. It also has a top speed of 122mph, thanks to 134bhp – making it quick off the mark and perfect for long and short distances alike. The power steering and torque ensures whichever new Kia Optima you plump for, it'll navigate tight corners, narrow streets and wet conditions with ease.
Engine options and fuel efficiency
The same model (1.7-litre CDRi 2 Luxe) will give you a combined MPG of 47.1, and an extra urban reading of 57.6 MPG, which means you'll be spending less time at the pump and more time on the road. And with CO2 emissions of just 158g/km, you'll be doing your bit for the environment too. All Kia Optimas come with 1.7-litre engines, but you can choose from manual and automatic transmissions depending on your driving habits and need for speed. For example, compared to the CDRi 2, the CDRi 1 manual does 0-60mph in just 10.2 seconds and has CO2 emissions of 28g/km.


Modern styling, inside and out
Available in a range of colours, the Kia Optima range boasts gloss black bumpers and body-colour mirrors, side sills and door handles for a sleek finish. In addition the chrome exhaust and front grille add a modern edge to match the interior, which is packed full of gadgets as well as a leather-trimmed steering wheel and gear stick.

Take all the above and mix in Bluetooth connectivity, cruise control, auto-dimming rear view mirror and impressive safety systems (including three-point seatbelts, ABS brakes and multiple airbags) to make your drive comfortable, easy and smooth, plus it comes with Kia's pioneering 7 year/100,000 mile warranty and you have a car that's guaranteed to be admired.



OPTIMA 'LUXE' SPEC




18" Alloy Wheel with full sized Spare Alloy Wheel
Black Leather Upholstery with Grey Cloth Trim
Front Heated Seats
Reversing Camera & Sensors
Cruise Control & Speed Limiter
Panoramic Sunroof with Tilting & Sliding Function & Automatic Electric Roll Blinds
Dual Auto Air Conditioning & Air filter
LED Daytime Running Lights
8 way Adjustable Power Drivers Memory Seat (IMS)
Bluetooth® with Voice Recognition & Music Streaming


OPTIMA 'TECH' SPEC



17" Alloy Wheel with full sized Spare Alloy Wheel
7" Touchscreen Satellite Navigation System
Dual Automatic Air Conditioning
Black Cloth & Faux Leather Upholstery
Bluetooth® with Voice Recognition & Music Streaming
Reversing Camera (with view inscreen) & Sensors
Cruise Control & Speed Limiter
8 way Adjustable Power Drivers Memory Seat (IMS)
Infinity Premium Sound System with 12 Speakers Including 4" Central Speaker, 550w External Amp & 8" Subwoofer


OPTIMA '3' SPEC



18" Alloy Wheels & full size spare alloy wheel
Smart Key with Start/Stop Ignition Button
Driver's Air Ventilated Seat
Automatic Parking System (PPAS) incls front & rear parking sensors
Leather Interior
Bi-Xenon headlight with Automatic Levelling
7" Touchscreen Satellite Navigation with European Mapping
Panoramic Sunroof with Black High Gloss Door Frame
Stainless Steel Door Scuff Plates with Front Illumination
Infinity Premium Sound System with 12 Speakers Including 4" Central Speaker, 550w External Amp & 8" Subwoofer